---
---
2021 CMHA Sask. Cash Calendar Winners List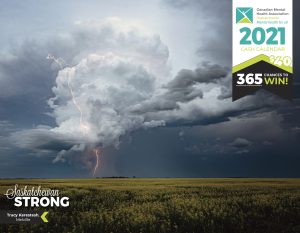 ****January Cash Calendar Winners 2021****New
(Scroll down for previous years.)
As soon as the month's Cash Calendar winners are posted here we share the link on CMHA SK's Facebook and Twitter pages, so be sure to follow us for the latest information.
*Please Note: CMHA SK Cash Calendar winners are posted as soon as possible, typically within a week after the end of the previous month. We are only able to post winners on a monthly basis. Thank you for your patience and best of luck to all our Cash Calendar supporters.
---
2021 Cash Calendar Artwork Submission Winners for….
January's Artwork
"My latest series of skyscapes is called 'look up'. Within Saskatchewan, we have the most beautiful skies I have ever seen… if only people would look up from the electronic devices. Abuse of electronics and online bullying is a growing concern today that is changing the social fabric of our relationships in somewhat of a negative way. Looking up and being active in nature is scientifically proven to improve mental health. Furthermore, art (either the making of or the viewing of) has positive effects on overall mental health and so far me, I have melded the two together, showing off some of Saskatchewan's beauty, hoping to inspire others to explore their own backyards more often and take some of that into their home by means of artwork."

Originally by: Crystal Rassi

Location: Dundurn, SK
---
Thank you for supporting Saskatchewan Division's Mental Health Fundraiser!
When you support the CMHA SK Cash Calendar, you are directly supporting mental health in Saskatchewan. Your support of CMHA SK's Calendar Fundraiser makes a real difference in the lives of the many people in Saskatchewan facing mental illness.
For a list of our Calendar Sponsors visit "About the Calendar" & Scroll Down 🙂
---
Past Cash Calendar Winners
2020 Cash Calendar Winners
2020 CMHA Cash Calendar 50/50 Sweet-Heart Draw:

CMHA Cash Calendar 50/50 winner – Al Macza from Saskatoon
December Cash Calendar Winners 2020
November Cash Calendar Winners 2020
October Cash Calendar Winners 2020
September Cash Calendar Winners 2020
August Cash Calendar Winners 2020
July Cash Calendar Winners 2020
June Cash Calendar Winners 2020
May Cash Calendar Winners 2020
April Cash Calendar Winners 2020
March Cash Calendar Winners 2020
February Cash Calendar Winners 2020
January Cash Calendar Winners 2020
2019 Cash Calendar Winners
December Cash Calendar Winners 2019
November Cash Calendar Winners 2019
October Cash Calendar Winners 2019
September Cash Calendar Winners 2019
August Cash Calendar Winners 2019
July Cash Calendar Winners 2019
June Cash Calendar Winners 2019
May Cash Calendar Winners 2019
April Cash Calendar Winners 2019
March Cash Calendar Winners 2019
February Cash Calendar Winners 2019
January Cash Calendar Winners 2019
2018 Cash Calendar winners
December Cash Calendar Winners 2018
November Cash Calendar Winners 2018
October Cash Calendar Winners 2018
September Cash Calendars Winners 2018 
August Cash Calendar Winners 2018
July Cash Calendar Winners 2018
June Cash Calendar Winners 2018
May Cash Calendar Winners 2018
April Cash Calendar Winners 2018
March Cash Calendar Winners 2018
February Cash Calendar Winners 2018
January Cash Calendar Winners 2018
2017 Cash Calendar winners
December Cash Calendar Winners 2017
November Cash Calendar Winners 2017
October Cash Calendar Winners 2017
September Cash Calendar Winners  2017
August Cash Calendar Winners 2017
July Cash Calendar Winners 2017
June Cash Calendar Winners 2017
May Cash Calendar Winners 2017
April Cash Calendar Winners 2017
March Cash Calendar Winners 2017
February Cash Calendar Winners 2017
January Cash Calendar Winners 2017
2016 Cash Calendar Winners
December Cash Calendar Winners 2016
November Cash Calendar Winners 2016
October Cash Calendar Winners 2016
September Cash Calendar Winners 2016
August Cash Calendar Winners 2016
July Cash Calendar Winners 2016
June Cash Calendar Winners 2016
May Cash Calendar Winners 2016
April Cash Calendar Winners 2016
March Cash Calendar Winners 2016
February Cash Calendar Winners 2016
January Cash Calendar Winners 2016
2015 Cash Calendar Winners
December Cash Calendar Winners 2015
November Cash Calendar Winners 2015
October Cash Calendar Winners 2015
September Cash Calendar Winners 2015
August Cash Calendar Winners 2015
July Cash Calendar Winners 2015
June Cash Calendar Winners 2015
May Cash Calendar Winners 2015
April Cash Calendar Winners 2015
March Cash Calendar Winners 2015
February Cash Calendar Winners 2015
January Cash Calendar Winners 2015
2014 Cash Calendar Winners
December Cash Calendar Winners 2014
November Cash Calendar Winners 2014
October Cash Calendar Winners 2014
September Cash Calendar Winners 2014
August Cash Calendar Winners 2014
July Cash Calendar Winners 2014
June Cash Calendar Winners 2014
May Cash Calendar Winners 2014
April Cash Calendar Winners 2014
March Cash Calendar Winners 2014
February Cash Calendar Winners 2014
January Cash Calendar Winners 2014
2011 – 2013 Cash Calendar Winners
2013 Winners
2012 Winners
2011 Winners
---